hierhin die mixes
08 – Grooving At A High-Gloss Pool Party In 1998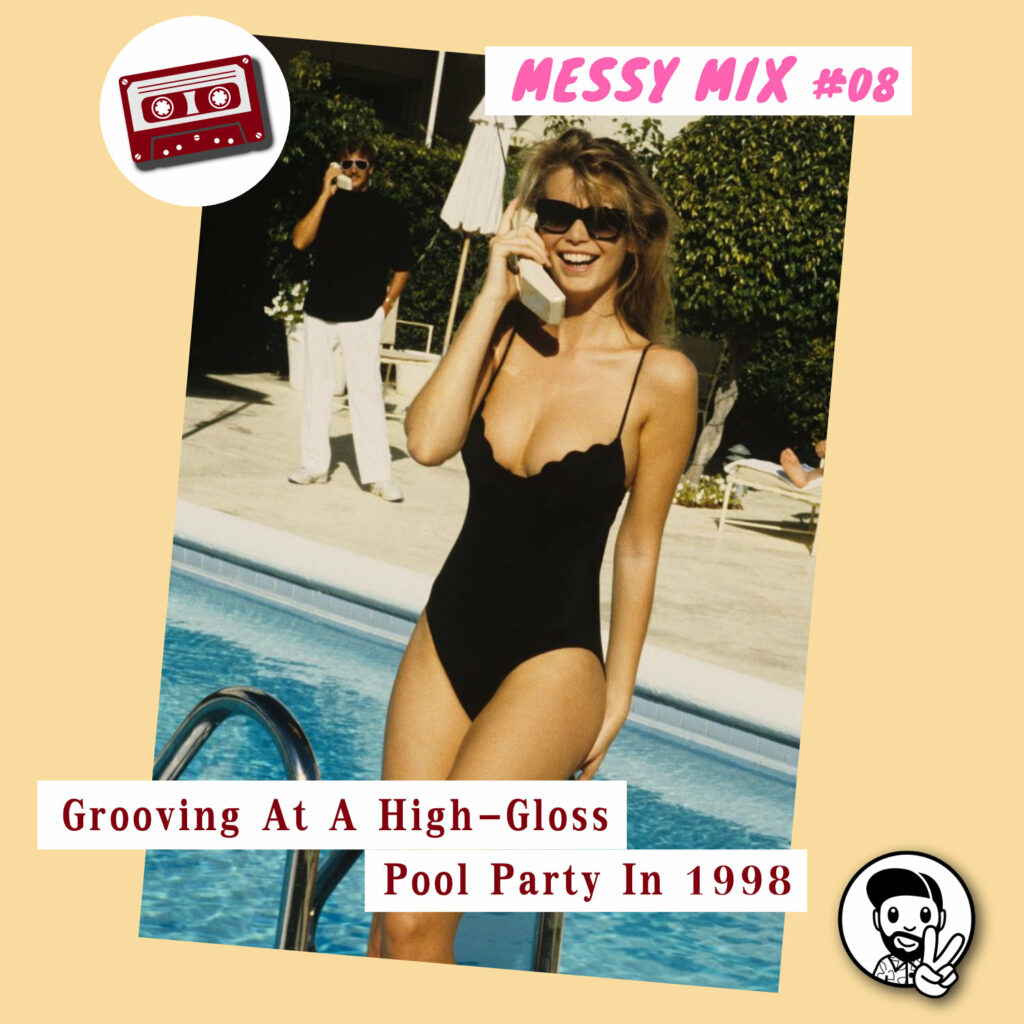 Nothing wrong about a proper pool party, right?
Following the last more mellow mixtapes here I decided to shake things a bit up with my latest Messy Mix and provide a proper mood-lifter that takes us right back to the heydays of late 90s hedonism. Let me invite you to a posh pool party with way too cool people that takes place somewhere in 1998. While I was clearly too young and too uncool to ever get invited to such a celebration I always envisioned it as a place where slick house music grooves would be playing so that's why I compiled these tunes from around '95 to '98. So this set ended up including legendary producers like Dave Morales, Tony Humphries, Mousse T., Bob Sinclair and Danny Tenaglia. You'll find a few legendary pop smashers in there as well, just in a different musical form.

Even without the pool party context this selection represents a sound I've been digging a lot lately. Maybe there's a nostalgic notion in there as well, maybe it's the summer. Well, I'll leave the interpretation up to you. Until then: Grab a drink, enjoy the summer days and dream yourself away to a better place. Love, Burnout Sumner
hierhin die mixes
07 –  Awakening To The Sardinian Sun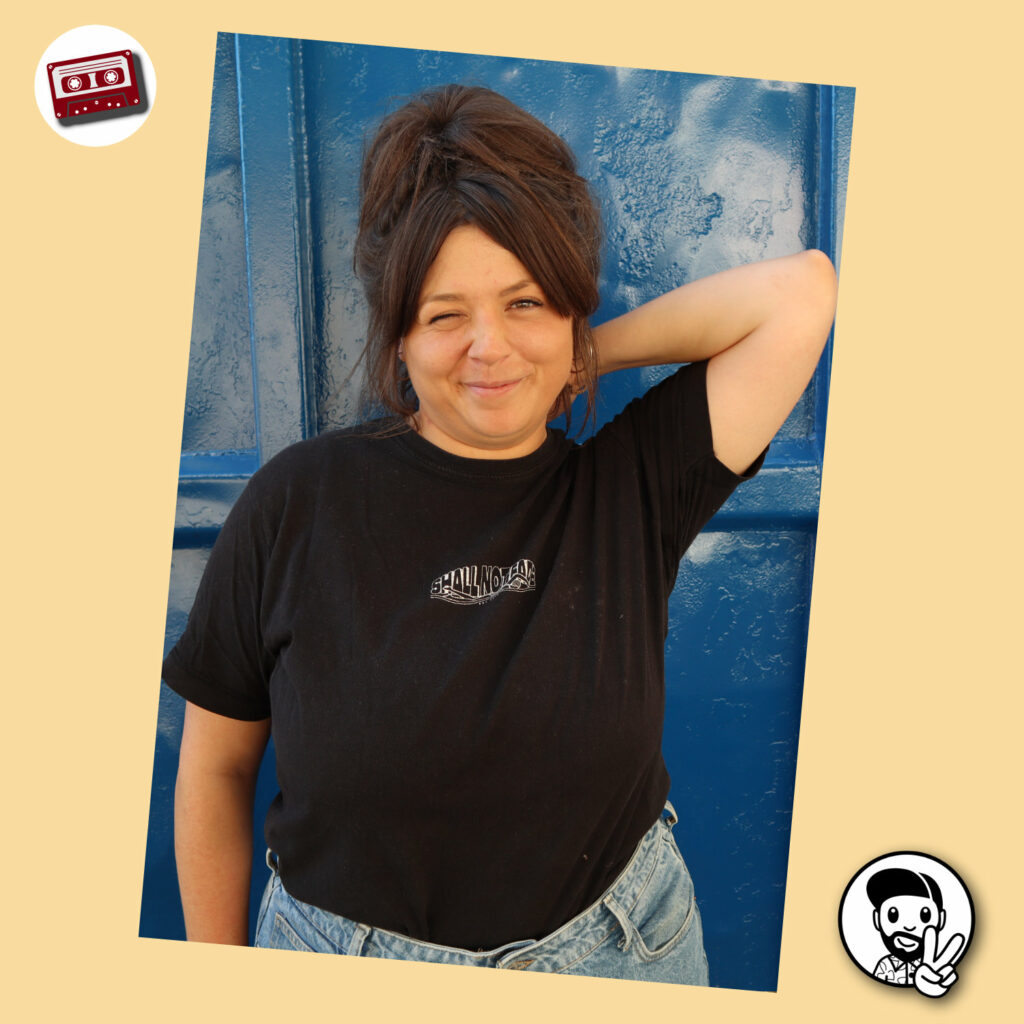 Ah, sweet sweet summer sun. We better enjoy it all before it gets too unbearably hot, right? A good sunrise is even better when it happens across the sea and when the impending new day isn't packed with work or other commitments – and this new Messy Mix is dedicated to that special feeling. To capture it I asked Leipzig-based DJ and music lover Gili who I first met during a party of our mutual friends Stolen Money Posse and whose sets I've been enjoying a lot since then.

However, I quickly noticed that Gili is not just about nice house bangers but has an eclectic musical taste. And the timing for my message to her couldn't have been better as it collided with her trip to beautiful Sardinia and that elated feeling that you just get when you have just arrived in a beautiful place and know that you will stay there for the next few days.
The result is a mixtape that is closely connected to her vacation experience and Gili's thinking and feeling there as she explains.
"With the mix, I wanted to capture the feeling of being in a place where really none of what matters at home should matter there. It's about letting go and yet taking it with you, about arriving and leaving, about being and engaging.

The mix musically describes the journey from the slow awakening and getting up, from going out, from the first coffee, the first conversations, the first rays of sunshine, the first laughter, from then getting quite tired again – all in all from the wonderful first hour of a day on vacation in Sardinia."

The smooth selection includes a few personal favourites like Kelela and Kadhja Bonet but also lots of artists I didn't know so far like Yaya Bey or Twit One. I always love to discover new stuff through these mixes and I hope you'll do. But most of it I hope you'll have a great time with this sensual soundtrack for the upcoming summer days. I surely will!

hierhin die mixes
06 – A Walk On The First Warm Day Of Spring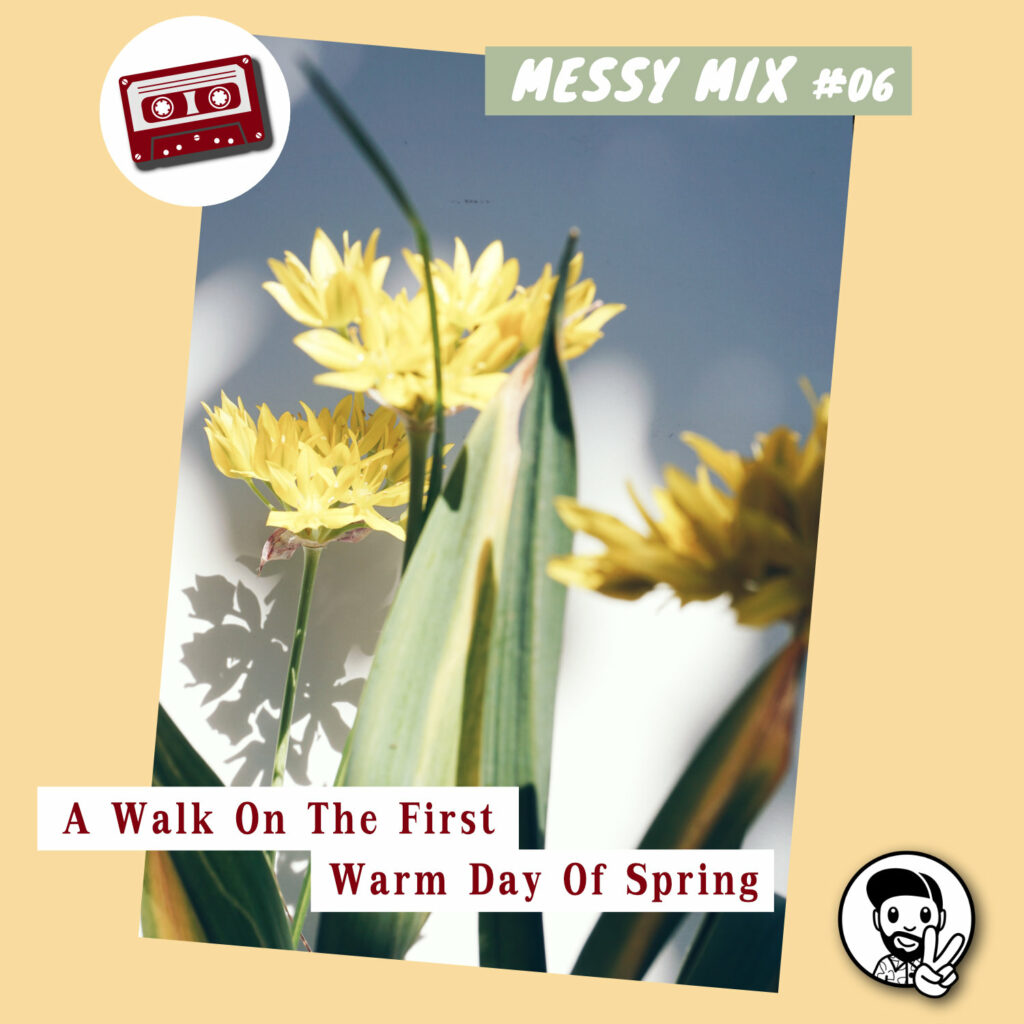 The arrival of spring always comes with a feeling of renewal to me personally. It's a fresh start after a harsh winter and it always fills my heart with joy and energy to experience the "return" of nature as everything gets more colourful again. You know these spontaneous strolls you do during that time when you suddenly realize that winter is gone? That's the feeling I wanted to capture with the sixth episode of the Messy Mix.

Going for longer walks around Berlin's surprisingly green neighbourhood (at least where I live in the Wedding district) really helps me to put things in perspective. And yeah, I guess during the Covid-pandemic we all learned the importance of that to a certain degree. So, this is my tribute to these meditative moments, to the fields, to nature's regenerative power and the overall beauty of spring, even in such desperate times like now.
The mix is mostly a slow and relaxing affair but you can expect a little celebratory twist towards the end. Next to a few personal long-time favourites when it comes to that sort of sound like Tycho, Teen Daze, Homeshake and Will Samson you'll find a few more surprising guests in here. There's gentle indie-folk from Adrianne Lenker, warm melancholia from Icelandic artist Sóley as well as track by promising German producer Nand. Oh, and watch out for an almost forgotten Stereolab rework of a classic from The Avalanches. Well, if you want to know more IDs, just drop me a line.

hierhin die mixes
05 – Variations Of Silence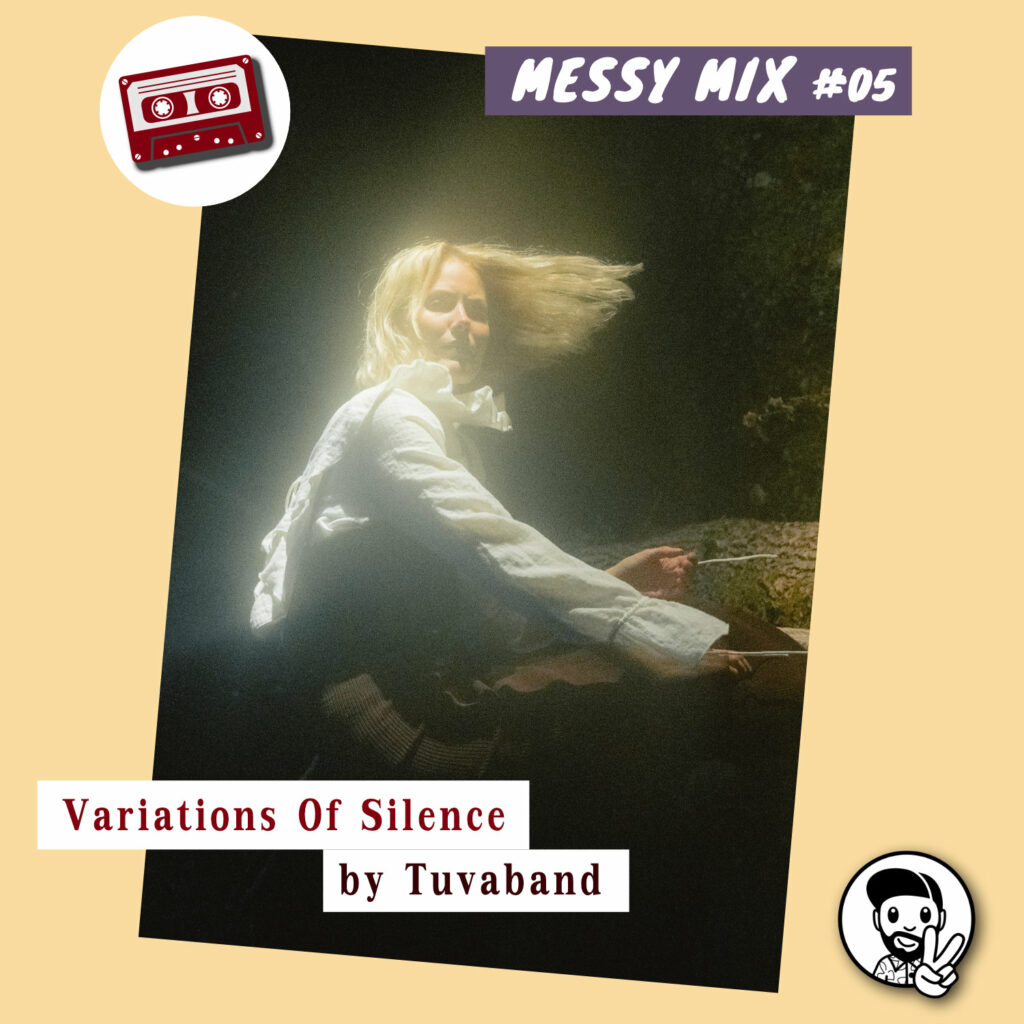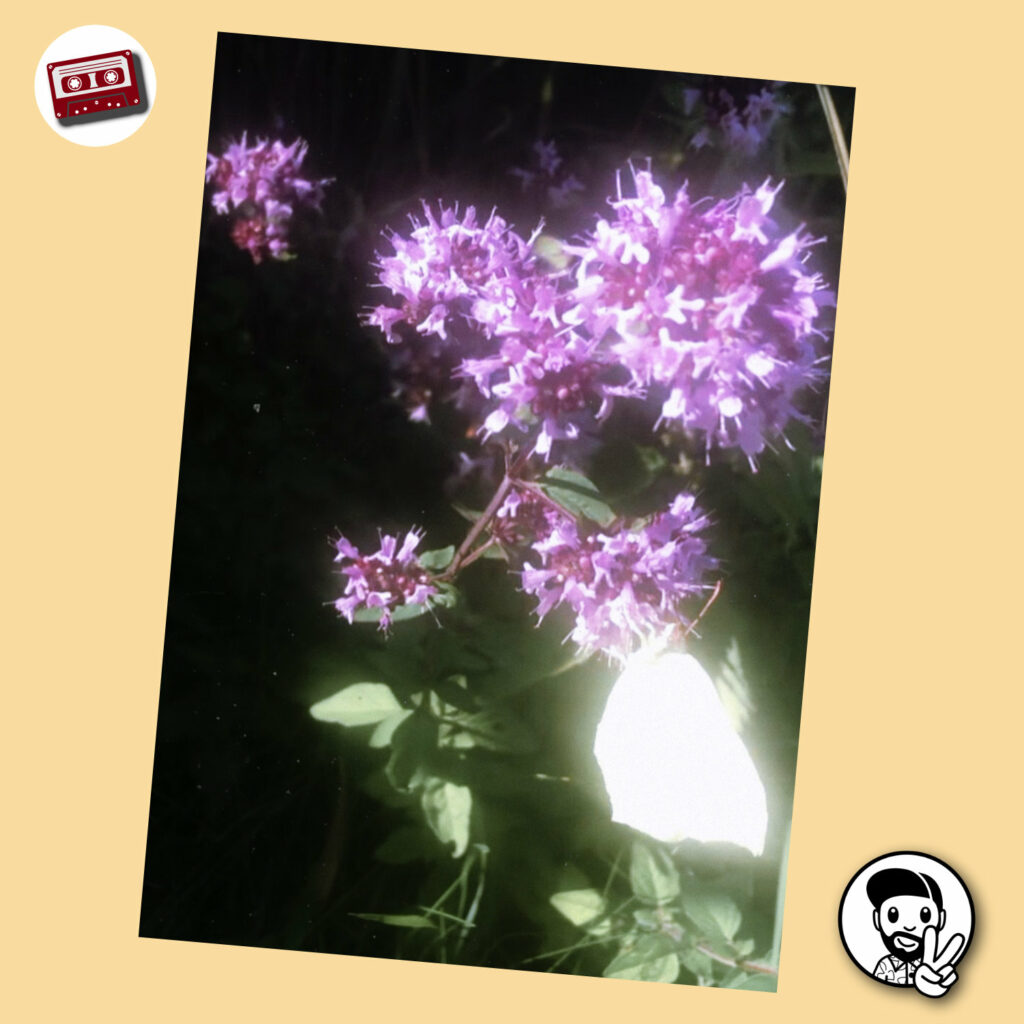 The louder and the more chaotic this world gets the more we all long for silence. But is true silence even possible in an accelerated world of noise? Norwegian artist Tuva Hellum Marschhäuser aka Tuvaband asked herself the same question when we started talking about her very own Messy Mix. "I've realised it's never really completely silent," she says. "Silence always has a sound. Sometimes I want to control what silence sounds like." And this fifth edition of my ongoing mixtape project wants to do exactly that – it gives the silence a sound, handpicked by Tuva.
The result is a fascinating and very calming listening experience, packed with a few familiar names like Nicolas Jaar, Sylvan Esso as well as a brief musical greeting from Tuvaband at the end it are tracks and sounds that are unknown to me. Almost 90 minutes of meditative pleasure for your personal retreat from whatever the heck is going on right now in the world. It's an invitation to deepdive into these calming sounds and maybe even yourself and I'm thanking Tuvab very much for this beautiful trip about which she says:
"I've created a mix of songs that either contains sounds that can trigger ASMR, or has other comfortable sounds, or can can be relaxing/calming. I've been listening more to this type of music the last month because I'm in a phase right now where I'm experimenting more with samples and nice, intricate sounds. Some of these songs are also from albums I listen to while I'm doing yoga. I also thought it was important to add some songs which can release some dopamine, while they're still kind of, or almost, fitting in to this mix."
hierhin die mixes
04 – A Night Out In The Blade Runner Cosmos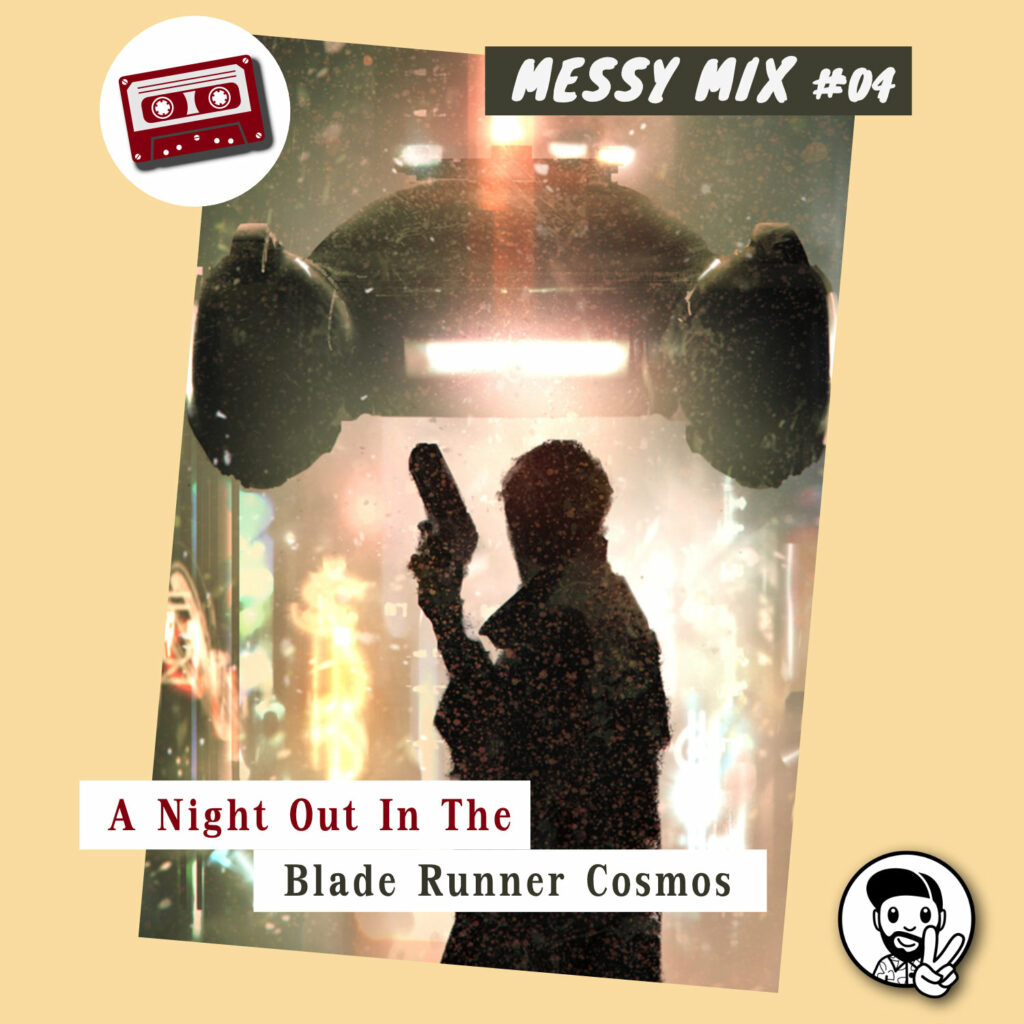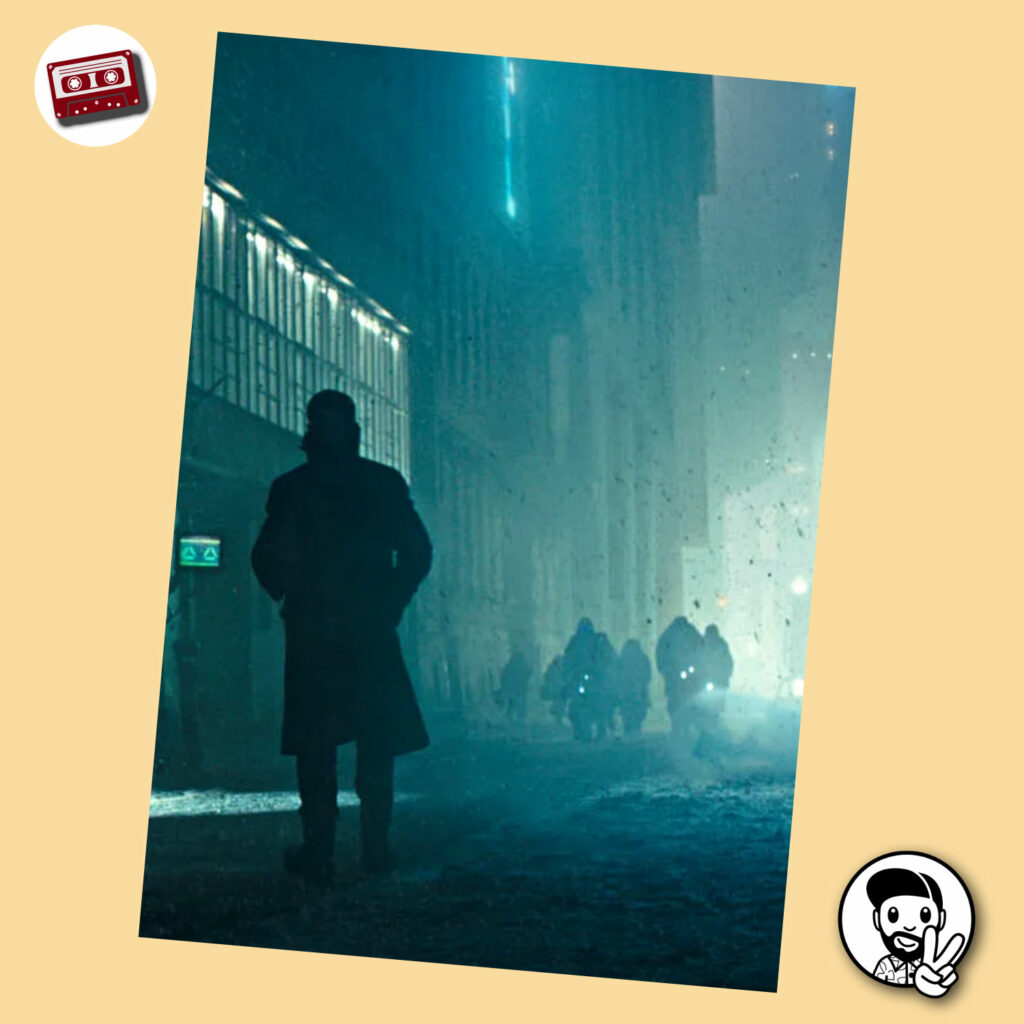 I have a long lasting fascination for the whole Blade Runner franchise ever since I first saw Ridley Scott's iconic science-fiction movie as a kid. I also enjoyed playing the PC game that was released back in 1996 as well as the late follow-up movie from a few years ago. In many ways that movie might have initiated a subtle love for dystopian fiction and those desolate worlds which fascinate me ever since. The saddening fact that our society is slowly heading towards such a bleak scenario is quite an iconic twist here. Maybe I need that reminder that things can get even worse in order to fight for a better future. I honestly can't tell.
I've been digging the whole aesthetic of the movie as well as the sound that late Greek composer Vangelis composed for it in 1982. So, the idea to explore this world musically is a very personal one and I came up with the question: How would a night out in that dystopian moloch of futuristic Los Angeles look like? What if Harrison Ford's Rick Deckard went from club to club during one of those rainy nights? Do androids rave to electronic beats? That's the story I wanted to tell with this tape.

This Messy Mix is constantly switching between quiet and loud moments with an overall feeling of darkness and doom clouding it. The more melancholic ambient moments (including music from the original 1982 score as well as from the 2017 sequel by Hans Zimmer and Ben Wallfisch) are interrupted by pumping and heavy electronic beats, underlining the intensity of the scenery. In it you'll find the work of admired contemporary producers like Daniel Avery, Rival Consoles, Ellen Alien, HAAi,Kurt Uenala, Moderat and a few more surprises. It's indeed a journey right towards the end when Jehnny Beth fittingly states "I used to be a human being"; something that's quite fitting to the themes of this series. Link is in the Bio and I surely hope you'll enjoy it.
hierhin die mixes
03 – Reconnecting With Myself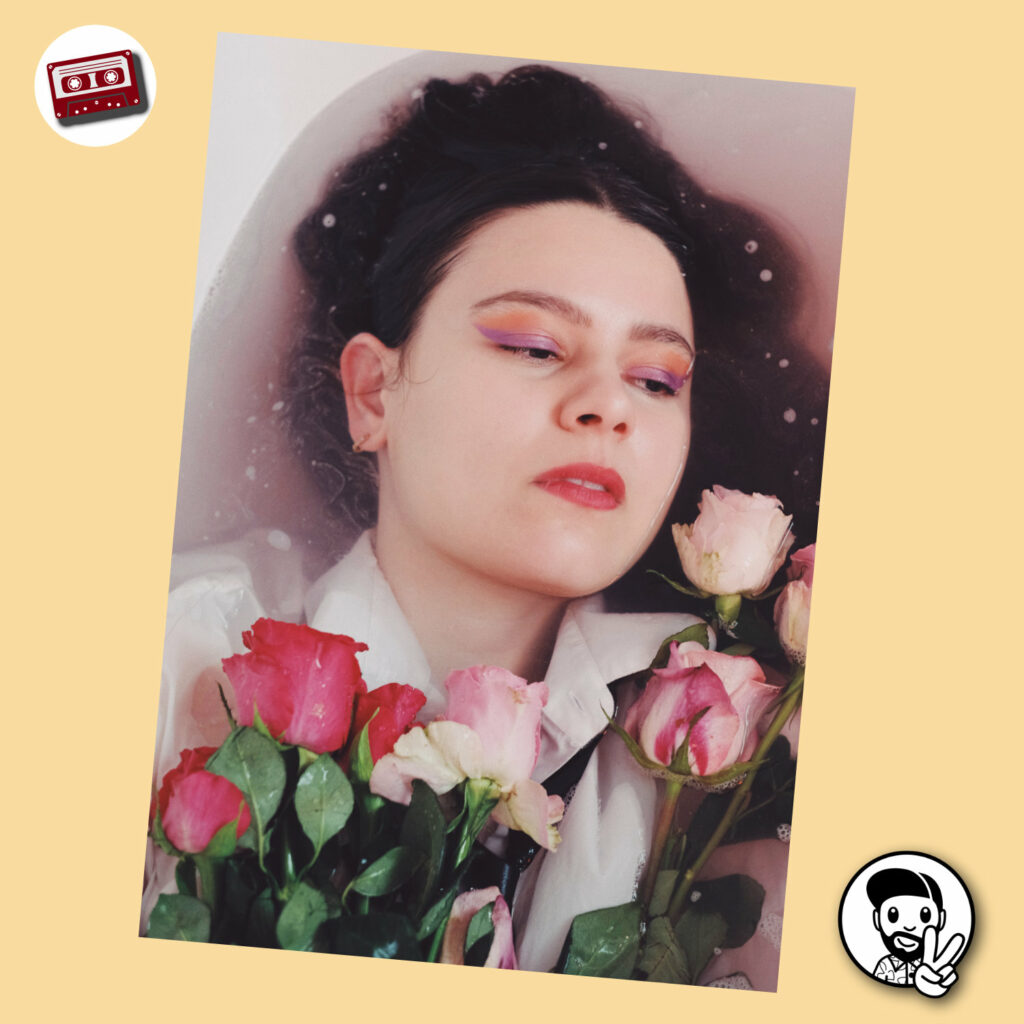 I've been happy to call German band Kraków Loves Adana friends for a few years now. Over the past 15 years the musical brainchild of songwriter Deniz Çiçek has delivered outstanding songs and records and it really bothers me that they haven't reached global stardom yet. Well, they got a loyal constantly growing fanbase and Çiçek's songwriting and storytelling only get better with age. Her seventh album "Oceanflower" is set for a release on February 14 and her Messy Mix is directly influenced by the work on this new record which does indeed come with a certain 'back to basics' approach from Kraków Loves Adana following the last more electronic releases. 
Lovers of profound 80s and 90s indie will find a few few familiar faces (and voices) in here, including Slowdive, The Cure, Peter Gabriel as well as the critically underrated 00s indie group The Organ. This Messy Mix does indeed feel like a good old fashioned mixtape, something your younger self would burn on a CD for you to remind you about the things that used to be close to your heart.
Here's what Çiçek got so say about her reconnecting mixtape:
"I live my life in album cycles with each album representing a particular chapter of my life. Oceanflower is a testimony of reconnecting with my innermost being & overcoming depression. It also marks a return to my musical roots, turning more towards my first learned instrument – the guitar – and phasing out the electronic influences. This mix is full of songs that accompanied and comforted me during this process and they are best listened to walking through nature or at home alone."
hierhin die mixes
02 – Purple Postpunk Poets Of Pop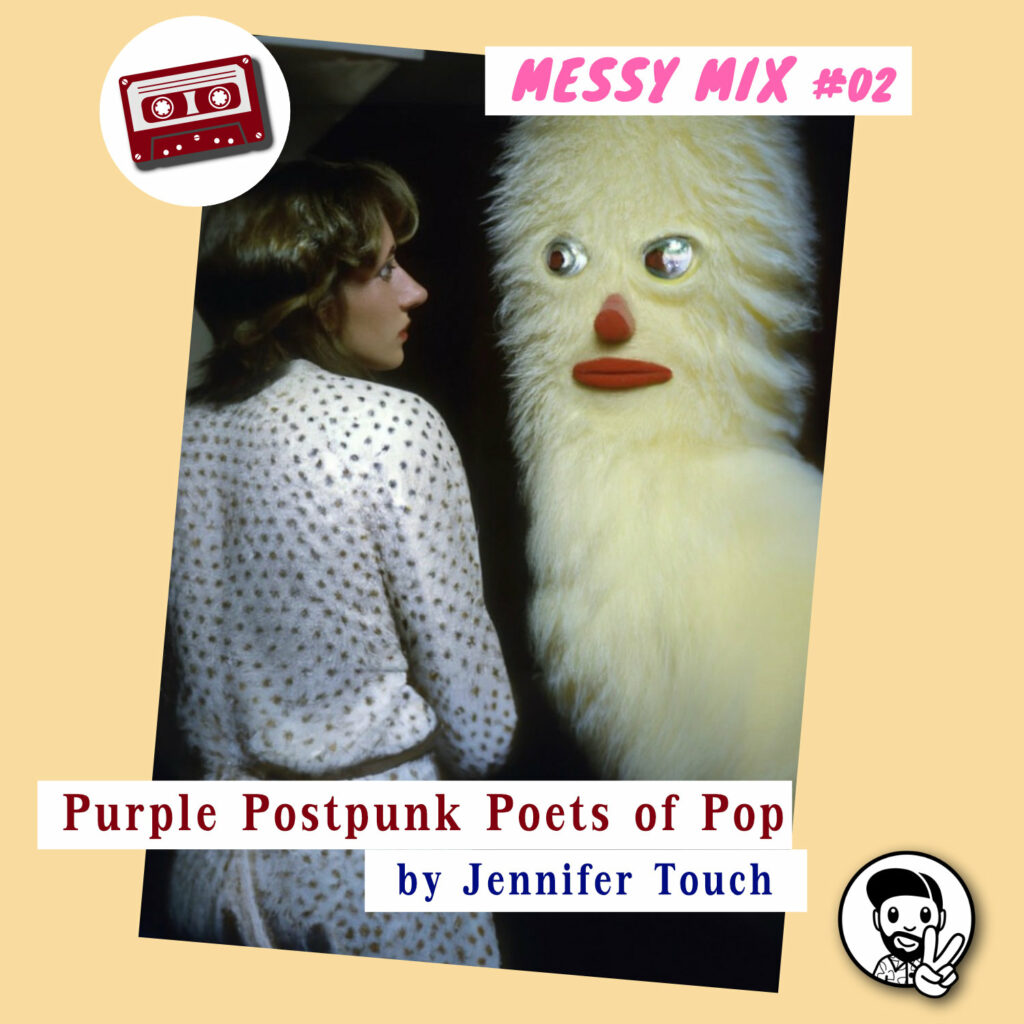 I've been following German artist Jennifer Touch since her early days and I'm as honored as I am happy that she's the first person to join me on this new adventure called "The Messy Mix".
As a fellow lover of dark 80s wave sounds I was more than curious about the story she would be telling here. Jennifer went for the theme called "Purple Postpunk Poets of Pop".
Next to some fascinating tunes by The Bug, SF-X, Twin Tribes and Broken English Club Jennifer also included a tune of her own as well as overdub extracts of poets from Sylvia Plath. Very fascinating journey, I gotta say.
Here's what she got to say about it:
"Music speaks to me like words do. … The mix is inspired by my favorite poets Allen Ginsberg and Sylvia Plath. The unconventional offbeat and verbally eclectic poetry of the Beatniks and the modern feminist and dark vibe of Plath's writing fit well with my way of consuming and feeling music.
All tracks of the mix are part of the same sonic and emotional universe, although they come from different genres. When I curate music for a DJ set, I feel like the recipient of a poem, written by different artists to create a special world in others. The longer I've been a musical artist myself, the more I'm into poetry and the written word, as I'm also a writer. And maybe part of a new beat generation."
hierhin die mixes
01 – Dance The Despair Away
I decided to launch the project thing with a party to reflect on the turbulent year that 2022 was. So I compiled all the floorfilling hits that moved me and others over the past 12 months. I know, changing listening habits lead to a decline in overall hits the world can agree on.
So this is my attempt to collect my personal (and general) dance hits and create a set where Beyoncé follows directly after Yard Act and where Viagra Boys deserve the same space like HAAi and Megan Thee Stallion.
From pop to hip hop, from indie rock to electronica – this is the one essential set you should play on your New Year's Eve party or whenever you feel the need to recap this crazy year in musical form.
2022 has been a wild and existential ride for me as well so this is a fitting tribute to it.
Love and good vibes
Burnout Sumner